Ben Story
Group Chief Operating Officer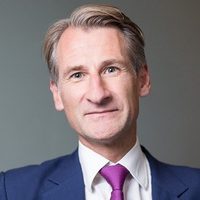 Ben is the Group COO of SDCL responsible for asset management and the group's operations. He is also a member of the Investment Committees of SDCL Energy Efficiency Income Trust plc and the Green Energy Solutions Fund.
Prior to joining SDCL, Ben was a member of the Executive Team at Rolls-Royce plc, responsible for strategy, M&A, corporate affairs, customer services and digitalisation. Before that, Ben spent over 25 years in banking, most recently as Head of UK Investment Banking at Citigroup Inc. Ben has extensive experience with global infrastructure investment and funding. Ben is a Board Member of Transport for London and Chair of its Programmes & Investment Committee. He is also a Board Member of ITP Aero, the Spanish aerospace company, and an Advisory Board Member of R2 Factory, Rolls-Royce's commercial artificial intelligence business.
Ben has a Management Sciences BSc. (Hons) degree from the University of Warwick.
View all